We make pile driving (ramming), earth screws and install the sub-constructions and the modules as well. We have references over 380 MWp.
KASKA s.r.o.
We are an international provider for photovoltaic installations offering: Consultation. Constructions. Pile driving. Sub-structures and Modules Assembly. Always focussed on service and quality.
Team
With about more than 70 staff we are oriented on bigger installations (more than 0,5 MW). Foreign languages speaking crew leaders. Staff trained in real-life situations.
Locations
Operating internationally for you, headquarters in České Budejovice (Budweis), Czech Republic.
Czech republic is also called "the heart of Europe". Company is registered in the largest city in the south of Czech republic – in Ceske Budejovice (in german it is also called "Budweis"). From Austria 50 km, from Germany 60 km. This fact, as well as price-effective, but highly qualified labor force, makes KASKA's prices interesting.

Experience
Founded in 1998, engaged in photovoltaics since 2009 we already completed more than 50 solar projects. In eight countries. With an overall performance of more than 330 MWp. Need some examples? Come and see for yourself!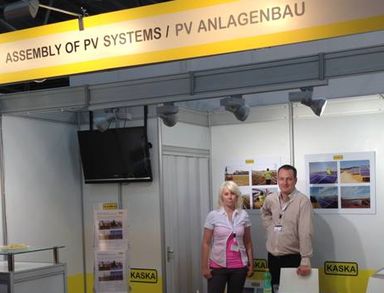 KASKA´s booth at Intersolar Munich exhibition
Equipment
Demanding tasks require state-of-the-art equipment. We have it! For slopes of up to 20°. For rock drilling. And always exactly right for your job. Maintained to the highest standards.
Sustainability
We do create jobs and guarantee official wages. As solar energy is 100% sustainable, we also think responsible.
Certificates
Company KASKA has a certified magement system:
ISO 9001 (quality management system)
ISO 14001 (environmental management system)
OHSAS 18001 (labour safety management system)